Noël Robb was a distinguished South African liberation activist and Black Sash stalwart. Her contributions to building the Black Sash in its early stages was pivotal in ensuring the organisation participates in helping the marginalised groups under the apartheid regime.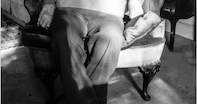 ©Tracey Derrick
Women's Leader
Noël Robb was born in England in 1913, and relocated with her family to South Africa in the 1930's. She became a teacher, accepting a post at St Cyprians School in Cape Town. She served on the committee of St Cyprians School for 30 years.
Robb was one of the founding members of the Black Sash organisation (first called The Women's Defence of the Constitution League), established in 1955. She was the director of its first Advice Office and served as a member of the organisation's governing regional council for almost 40 years.
One of the Black Sash's main actions was to stand outside of Parliament with their Black Sashes when it was in session, berating the politicians who were hindering human rights. The Black Sash opened an Advice office to offer support for women of colour who were dealing with the Pass Laws. The organisation was instrumental in providing marginalised groups, specifically women, with basic necessities such as food and clothes. Robb ran an Advice Office in Crossroads, Cape Town.
She became known as "Mama Robb, Black Sash" in the township of Khayelitsha. Robb worked to assist people with legal and other bureaucratic matters. In 1989, she was elected as honorary life Vice President of the Black Sash in honor of her leadership and outstanding dedication to the organisation.
Robb passed away in 2009, at the age of 96. She will always be commemorated for her selfless acts towards the betterment of the people around her, and as a leader of marginalised South African women.