Ray Alexander Simons was an advocate for the liberation movement in South Africa. She made a mark on South African history with her work for marginalised citizens during the apartheid regime, as well as her input during the drafting of the Women's Charter.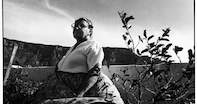 ©Tracey Derrick
Champion for Rights
Ray Alexander Simons arrived in South Africa in 1929 from Latvia, and began to organise black workers unions and joined the Communist Party of South Africa (CPSA) five days after her arrival into the country, at the age of 16.
As a champion for the rights of farmworkers and women of South Africa she became Secretary of the South African Communist Party and Trade Union stalwart, General Secretary of the Food and Canning Workers Union, founding member of the Federation of South African Women (FEDSAW).
She also played an instrumental role in drafting the Women's Charter. In 2004, Ray Alexander Simons was awarded the prestigious ANC's Isithwalandwe Award. Isithwalandwe, literally means "The one who wears the plumes of the rare bird". It is awarded by the ANC to those who have made outstanding contributions and sacrifice to the liberation struggle in South Africa.
Thabo Mbeki at the award ceremony described Ray Simons as "an outstanding leader of our workers and people who spent her entire adult life fighting for the freedom of our people". Her biography, All my life and All my Strength, gives an insight to her remarkable life. Born in Latvia 1914, Ray Alexander Simons passed away in 2004, at the age of 91.