Pedi was previously used to describe Sotho-speakers of Mpumalanga and Northern Province in South Africa. More recently, these groups have been renamed Northern Sotho.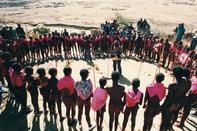 ©Dr Peter Magubane
Pedi initiates circle an elder.
The Pedi, as more narrowly understood, are part of the Highveld Sotho who live on the plateau around Pietersburg. Other Northern Sotho subgroups, over many of whom the Pedi once held sway, are the Lowveld Sotho along and below the Drakensberg Escarpment, and the Eastern Sotho in the Mapulaneng district, towards Lydenburg.