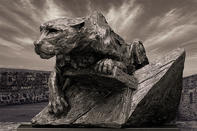 The art of creating bronze South African wildlife sculptures has remained one of the most expressive traditions for both artists and collectors.

South African singular sculpture is a unique and exclusive concept that was reserved for true art lovers for quite some time - but now, you are invited to experience the beauty and magnificence of acclaimed local South African wildlife sculpture artists and their work. This, of course, begs the question - where will you find such rare treasures? South Africa Online ®; holds the answer.
Displaying a bronze South African wildlife sculpture invites contemplation and debate into your home; the piece may be set in stone, but your interpretations aren't. Look through the South Africa Online ® digital exhibition to find South African animal art sculptures suited to your home, your ideas and your taste in art.