Flight of the Guinea Fowl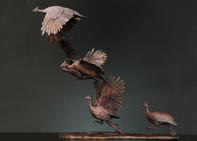 By representing the different stages of take-off, a South African artist has created a series of Guinea fowl in their most instinctive and distinctive form – fleeing a threat. These birds are notoriously skittish and aren't afraid to voice their concerns, often replacing roosters as suburban alarm clocks. The artist spent time as a game ranger and observed the Guinea fowl in nature – as a result, his rendition contains a more naturalistic motif.
Announce the 'lift off' of your art collection with this intricate bronze from SouthAfrica.co.za.
Priced From: US$8750
By Bruce Little