South African artist Bruce Little is an acclaimed bronze sculptor with a distinguished reputation for detailed and creative pieces of art. His work speaks clearly about the legacy he wants to leave; his innate commitment to wildlife conservation is declared in every one of his pieces.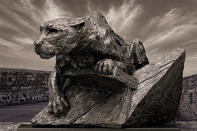 ©Bruce Little
A leopard sculpture.
Having worked as a game ranger and conservationist for 20 years, Bruce Little has had more than enough time with the animals he sculpts. The artist believes that capturing the essence of his models is more important than creating an anatomical replica – he says that the movement and attitude of each piece honour what the animal is.
The sculptor is self-taught and relies on instinct to guide his work. Little was born in South Africa and spent years photographing the wildlife around him, strengthening the bond he has with nature and giving him plenty of inspiration for his work in bronze.
Bruce Little's online gallery boasts gorgeous sculptures both found in local and international locations. His revered exhibitions and projects are themed around nature and biodiversity with a masculine energy and bare metal finish.
He aspires to create art pieces that reflect his passion for the natural world. His soulful and dynamic sculptures are made with elegance, attentiveness and delicate touches of soft sculpture combined with clay or hard metal.
Whether you want to spruce up your living space or add a touch of uniqueness to your decor, Bruce Little's gorgeous sculptures will bring the South African bushveld into your home.