Bruce Little is a self-taught artist with a love for all things in nature. Born in South Africa, he developed a passion for wildlife at an early age as he spent time in the bushveld. He went on to become a professional game ranger and conservationist before entering the world of art.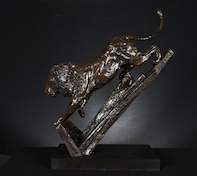 ©Bruce Little
Sculpture of a lion in motion.
Little worked as a game ranger in a number of famous private game reserves. He started at Londolozi and Singita in the South African bushveld, and then spent the following 10 years on a private conservation project in the Eastern Cape where he restored Hopewell, a former beef and sheep ranch, to its original wilderness state.
This included the reintroduction of indigenous wildlife to the reserve. The twenty years spent in the wilderness gave Bruce invaluable insight into the subjects he now loves to celebrate through his art.
Since the early 2000's, Bruce Little has worked on sculpting a range of animals from the bushveld that vary in size and shape. He likes to focus on the deeper meaning of the animals and their observations rather than depicting their anatomy 100% correctly.
As his artistry evolved over the years, so did his subjects - he began to create more contemporary pieces to portray the animals in a different light, but still capturing their surroundings, behaviour and spirit. He has also added human elements to his work to showcase the bond between humans and animals.