Outdoor Sporting Activities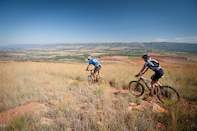 Recreational sports in South Africa have long entertained citizens with organised sporting events, friendly group socialisation and outdoor activities to pass the time.
The most popular sports in South Africa are played by both men and women, who can start practicing a number of sports at an early age in their community, at school or at national and international events. Recreational sports require participants to wear specific equipment or gear, and are either practiced solo or in groups.
Sport in South Africa plays a significant role in South African culture. The three main group sports include rugby, cricket and soccer, which are heavily influenced by global trends. Popular solo sports include tennis, swimming and golf. Adventure sports such as hiking, surfing and mountain biking are also well-practiced in the country, and those looking for the ultimate adrenaline rush indulge in rock climbing, skydiving and motor racing.
Whilst many people play sport to stay active, recreational sport is meant to make the player relax and enjoy the activity. There are no winners, no losers and no time frames - it is all about getting the most out of time spent with friends, family or solo.
South Africa Online ® offers recreational sport enthusiasts a guide to the best places in South Africa to practice various sports, as well as tips, tricks and important information on staying safe.