One with the Horse
The sport of horse riding is a popular activity in South Africa - a rider becomes one with their horse from a young age, learning to eloquently jump, gallop and ride until it becomes second nature.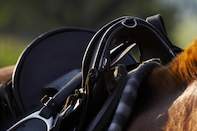 ©Roger de la Harpe
Any equestrian sport requires specific equipment for both the rider and horse.
Equestry is an elegant sport with an air of poshness around it, as reflected through highly anticipated annual events and sports days throughout the country.
The South African Equestrian Federation (SAEF) is the nationally recognized body for equestrian sports in SA. They abide by the rules, regulations and practices of the International Federation for Equestrian Sports (FEI), and offer sports that are FEI-approved. The SAEF also set specific rules for provincial and national competitions, and oversee all such horse show events.
There are several disciplines with the category of equestrian sports, the most popular being polo and showjumping. There are several events that are recognized as an olympic sport, such as dressage and vaulting. If you are a horse-lover with a competitive streak, taking up an equestrian sport might just be your next best hobby!
Events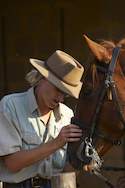 ©Roger de la Harpe
Horses that compete in equestrian sports are well-bred and trained.
There are numerous events in equestry, which are separated into amateur (just riding because you like it) and professional (competing in national and international competitions) levels.
It is common for participants to start at a young age, as competitions are separated into junior and senior categories. Various equestrian schools exist throughout SA, with the aim of training avid participants in a wonderful range of nuanced horse riding skills.
One of the most exciting and popular equestrian sports is polo, which is known as a 'gentleman's game'. It's elegant and has the same event status as horse racing - people usually dress more formally to go watch polo. There are four players on a team, and each have a specific role to fulfill.
The aim of the game is to knock the ball with the stick through the goalpost, and to ensure the flow of play is correct. It's quite an interesting game to watch, and during half time the pony's get switch to allow the animals to rest.
Showjumping is another popular event that is often a must-watch sport at the Olympics. It tests the ability of the rider and its horse to navigate a series of obstacles by jumping over a preset course of 10 to 20 jumps that are up to 1.60 m high or 2.0 m wide.
Penalties are given based on the number of jumps knocked down, falls, touches, refusals to jump and time penalties. The rider with the fewest penalties wins. It's usually nail-biting and entertaining to watch if riders are tied and jump-off comences.
Other disciplines include vaulting, which is a theatrical display of a riders acrobatic abilities on the back of his or her horse; dressage, which is an event that showcases a horse's natural athletic ability and his willingness to work with his or her rider; and eventing, which is described as a 'equestrian triathlon' - it consists of three events, namely dressage, cross-country and showjumping.
This event is reserved for the best of the best and it is very entertaining to watch the rider and his or her horse endure obstacles and showcase their teamwork and abilities.