Sit Back and Relax
South Africa's sublime coastline stretches for thousands of kilometers, allowing for numerous superb sailing locations that are sure to entice any avid seafarers. There is nothing quite like being out in the ocean, enjoying the salty air and soaking up the sun - that's what sailing is all about!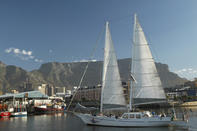 ©Roger de la Harpe
Sailing at the V&A Waterfront in Cape Town.
Sailing in South Africa is an unforgettable experience that both locals and tourists can indulge in. Whether you are on the warmer East Coast or Atlantic side of the country, there are various opportunities to head out into the big blue and explore the scenic Mzansi coastline.
Commercial sailing is a popular pastime in the Western Cape, the Garden Route and KwaZulu- Natal. You can sit back and relax as you glide along calm waters, spotting marine life such as friendly seals and dolphins, as well as the occasional shark or whale. It's also a great kick-off point for other oceanic experiences, like snorkeling or scuba-diving.
The perfect time for sailing is around sunset, when you can admire the gorgeous views of the coast as you sip on cold champagne. Sailing around SA is the ultimate tourist activity that is guaranteed to be a unique and memorable experience.
Sporty Sailors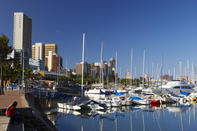 ©Roger de la Harpe
Sailboats in Durban.
Although sailing is now mostly known as a leisure activity, it originated as a competitive sport. It is said that the Dutch were the first to race yachts for fun, and in the early 18th century, the sport became popular in England, eventually spreading to America. Sailing only became a leisure activity during the 20th century, and with the introduction of more affordable boats, the sport became accessible to everyone.
Large communities of sailors are found along South Africa's coastline, who compete in both local and international sailing competitions. These competitions are held either on the open ocean, or on dams and large bodies of water. Sailing can be done either on a yacht or dinghy (a smaller boat meant for two people). Those interested in learning to sail will have to invest in a few lessons, which most sailing clubs offer.
Best Sailing in SA
Thanks to South Africa's incredible coastline and plethora of lagoons and dams, there is no shortage of great sailing destinations. Starting on the coast, Cape Town is known for its luxury charters and divine sailing opportunities around the V&A Waterfront, Seapoint and Camps Bay. During the summer, the ocean is dotted with various boats making the most of the sunshine and calm waters. Further east, there are beautiful spots on the Garden Route, such as the Knysna lagoon and estuary. Here, a day of sailing will include gorgeous views of the indigenous coastal forest, as well as the famous 'Knysna Heads'. Plettenberg Bay and Mossel Bay are also popular venues.
Port Elizabeth offers wonderful sailing, granted the day is not too windy. Here, tourists will get a glimpse of dolphins and whales as the frolic in the warmer waters of the Indian Ocean. Same goes for sailing in Durban.
To the north, the Vaal River is an awesome freshwater option. You'll be able to fish from the boat, or even work in a waterski if you're in an adventurous mood. The mighty Vaal's location within four provinces - Free State, Gauteng, North West and Mpumalanga - makes it the perfect spot for a quick weekend sailing trip for the interior-dwellers.