South Africa has a wide variety of adrenaline activities and thrilling experiences enjoyed by both locals and tourists. From world-class adventure sports to heart-pumping encounters with nature.
Dive with Sharks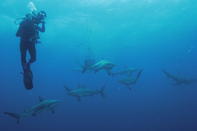 ©Johan Boshoff
Diving with tiger sharks.
Lions, tigers, crocodiles and sharks do eat people from time to time, but that's no reason to hate them. We must just understand and respect them in their own environments. In fairness, we've spent ages trying to kill them, so they have a good case for retaliation.
But it has been proven that you can swim safely with the most fearsome sharks - great white and tiger sharks — if you follow the rules. Most people still prefer being in a cage when confronting great whites in Cape Town, but in KwaZulu-Natal, they've been freediving with tiger (as well as ragged-tooth, grey, reef and Zambezi) sharks for several years, and no one's been injured yet.
Climb Table Mountain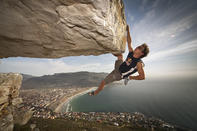 ©Jacques
Climbing Table mountain.
Summit one of South Africa's 'other Table Mountains: besides the famous one in Cape Town (1085 metres), there's a Tafelberg in the Cederberg (1969 metres), the Koue-Bokkeveld (1910 metres), the Valley of a Thousand Hills (960 metres), near Lady Grey (2 500 metres) and one near Robertson (742 metres). There's also a Tafelkop (1679 metres) near Barberton.
Escape Routes for 4x4's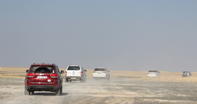 ©Ann Gadd
Southern Africa is a haven for 4x4 enthusiasts with some awesome terrain to challenge drivers. Boulder-ridder tracks to enormous sand dunes are waiting to be tackled (responsible, of course). But it doesn't have to be tough on the vehicle, some 4x4 trails are worth doing just for the view, and the sense of escaping from the rest of the world.