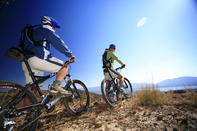 © Jacques Marais
South Africa has an endless selection of MTB routes all over the country.
Treasure Trove of Trails
For any mountain biking (MTB) enthusiast, South Africa is a magnificent treasure trove of trails waiting to be explored by avid crankers ready for adventure. The pristine natural beauty and diversity of the country's landscape allow for an endless choice of routes - wherever you go, there's bound to be a gem of a MTB trail.
The South African MTB community is made up of both novice and advanced riders, who are either in it for the sport, the fitness, the adventure, or just for the heck of it. It matters not, because once you get on the bike, you get to ride in one of the most gorgeous countries in the world!
Those on a thrill-seeking South African holiday should definitely opt for one or two mountain biking trails. Bring your own bike, or rent one from one of the many local bike stores (depending on your location). It can be an adrenaline ride, a family-friendly outing or an endurance test - you decide!