Skydiving 101
Jumping out of a plan can be one of the most thrilling experiences you can have - at least if you're someone who's hooked on adrenaline. Skydiving is a sure way to get your next fix.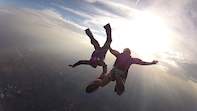 ©Tomas Del Corro
There are numerous skydiving operations all over the country.
For those seeking a beginner's high to those who are veterans in the skydiving game, South Africa is a great spot to acquire and hone that skill. All skydiving activity across the country is controlled by PASA (Parachute Association of South Africa).
With a parachute at your arsenal, you will jump out a place flying thousands of feet above the ground and plunge down towards the earth.
When you are ready to stop your plunging descent, there will be a chord attached to your parachute that, once pulled, will unfold the parachute, floating you safely back to solid ground. Once you get beyond the screaming portion that inevitably comes with this thrilling exercise, you'll be met with the most beautiful scenery the South African skies have to offer.
Types of Skydiving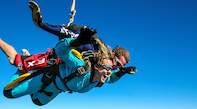 Avid skydivers can visit multiple locations across the country to explore the biggest planes in the country. These skydivers must have completed the 'Accelerated Freefall' courses that are offered around multiple locations in South Africa in order to qualify to skydive without an instructor. For those who have never skydived, you can either choose to do a standard static line jump or a tandem jump.
Standard static line jump is the alternative method to qualifying as a skydiver through the 'Accelerated Freefall' course. After one full day of groundwork training you will be able to soar through the South African skies virtually unassisted with this method of skydiving.
Unlike standard skydiving there is no freefall with this method. Your parachute will open automatically as you jump out the plane because it is attached to the aircraft by 'static line'.
'Tandem skydiving' is a type of skydiving designed for beginners, who need only minimal instruction from their instructor before making a tandem jump.