International Ranking
Cricket is a 'gentleman's sport' and many South Africans are avid supporters of the game. It is the second most popular sport in the country, and you'll find that almost every school has teams and a cricket pitch. It's a great recreational activity that can be played anywhere - on the beach, on grass or even inside! Just be careful of breaking any windows.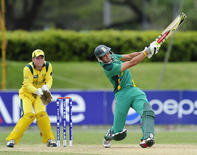 South Africa's national cricket team, the Proteas, competing in a test match against Australia.
South Africa is one of the world's leading cricket-playing nations. Its national cricket team, the Proteas, are highly skilled and is one of 12 countries sanctioned by the International Cricket Council (ICC) to play Test Cricket.
Cricket was introduced to South Africa by the British during the time of colonialism in the 19th century. The game's popularity gradually grew, and in 1876 the first domestic tournament was held on Port Elizabeth's grounds. The country played its first test match against England in 1889, becoming the third nation to adopt the game in a test match format. Since then, SA has firmly cemented its place in the international cricket circuit.
During the apartheid years, the ICC voted to suspend South Africa from international Cricket indefinitely because of the oppressive policies against people of color. The international ban lasted for 20 years, before it was lifted when the apartheid regime was abolished. As the country transitioned into democracy, the national cricket team reasserted its presence as an international force by playing various matches against countries like England, New Zealand, Australia and India.
In 2003, South Africa hosted the World Cup, and although the Proteas did not take the trophy, they continued to rank as a top team throughout the 2000s.
Local Tournaments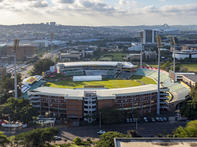 ©Roger de la Harpe
The Kingsmead cricket ground stadium in Durban, KwaZulu-Natal.
There are various local tournaments and matches that fans can enjoy throughout the country. The main cricket venues are located in Cape Town, Durban, Port Elizabeth and Johannesburg, although test matches are also held in Bloemfontein, East London and occasionally smaller centres.
During the cricket season, fans can look forward to the Supersport Series, an inter-provincial 4 day cricket competition, and the Standard Bank Cup, a limited-overs game played under lights.