Legacy Collection produces beautiful hand-crafted jewellery and each piece serves as a reminder for what former president Nelson Mandela and many struggle heroes fought to protect.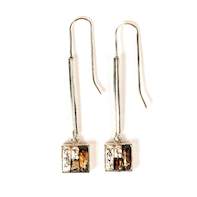 ©The Legacy Collection
The jewellery and fantastic art that form part of Legacy Collection are crafted from the original fence of the notorious Robben Island prison, which housed the freedom fighters including Nelson Mandela, Ahmed Kathrada, Walter Sisulu and many more during South Africa's oppressive years.
Legacy Collection specializes in an array of products including: jewellery, pendants, earrings, rings, the diamond collection, bangles, menswear, framed artwork and legacy beads which all serve as tokens of justice equality, forgiveness and freedom.
Legacy Collection jewellery bears the scars of South Africa's past while commemorating the spirit of those who overcame. Every Legacy Collection piece that is produced forms part of a limited range and each unique piece of jewellery is named in honour of South Africa's path to democracy.
From the Liberty and Justice bangles to the Grace and Mercy earrings, each creation honours the history and lessons that are apparent from South Africa. Each piece is accompanied with a unique serial number and certificate of authenticity. They are catalogued to ensure the authenticity of each piece.
Upon purchasing a piece of jewellery from Legacy Collection, you select your preferred framing styler and through the order a member from the Legacy Collection team will contact you with images of various pieces of the fence that are in stock for you to select your desired piece.