The Bark from the Tree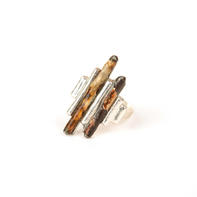 The designer of this ring has thoughtfully crafted an item of wonderment that arouses a sense of unity. At the centre of the ring are two pieces of the fence from Robben Island prison. As they stand bold and resolute, they remind one of the struggles that Nelson Mandela faced during his time of incarceration.

Shrouded in pure sterling silver, the ring becomes the basis for a dream that saw an entire country lifted into democracy.

Own your piece of a contemporary South Africa coupled with a reminder of true selflessness that gave birth to a new nation.