During a tour of Cape Town's infamous Robben Island in 2009, found-object artist Christopher Swift noticed that the original prison fence was being replaced. He took possession of the fence and approached Charmaine Taylor, who created Legacy Collection – a bespoke jewellery range that enables patrons to wear pieces of South African history.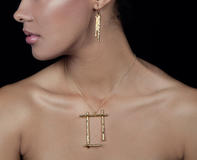 ©The Legacy Collection
"When you're covered with love, grace and forgiveness you transform a broken past into something beautiful. Legacy Collection symbolises that while scars remain, they remind us of how peace and reconciliation were achieved in South Africa and can occur across our world." - Charmaine Taylor.
Taylor says that each piece is named to commemorate a struggle that South Africa's people have endured. Legacy Collection embodies justice, equality, forgiveness and freedom, making each piece of jewellery a reminder of what former president Nelson Mandela fought for.
You too can own a piece of the maximum security fence used to contain Nelson Mandela during the apartheid era. Each stunning piece of jewellery is accompanied by a certificate of authenticity and is marked by a number to show its unique place in the collection.