A Ring for Redemption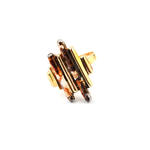 Gold is Mother Nature's most malleable metal – able to comply with the demands of any time. In this ring, it is used to reimagine the past by transforming another material with starker beginnings. Sourced from the infamous Robben Island prison, a fence has been crafted into an item of beauty and doused in gorgeous yellow gold.

What results is not only an accessory but a token of the enduring power of hope and reclamation. This poignant ring is made for the considered collector who values significance as well as beauty.