The Rainbow Nation Untwined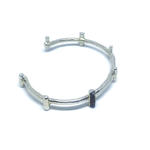 Own one of South Africa's most historic and iconic pieces of history with this bangle. Crafted from pieces of the Robben Island prison fence and skillfully meshed together in silver, this bangle represents freedom, democracy and South Africa's struggle to overcome the adversity faced during Apartheid.

Robben Island is where Nelson Mandela was held prisoner for 27 years. This bangle is a part of the foundation of the new South Africa and is undeniably rich with history. Wear your heart on your wrist and show that you are apart of South Africa's liberation with this unique piece.