Dripping with Elegance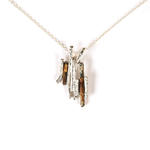 Africa is all about diversity, and the designer brings African heritage to life with this 55 cm sterling silver necklace. With an appeal that can only be felt, it invokes a sense of dynamic movement and unity. The bright sterling silver is coupled with original pieces of Robben Island's prison fence.

This unique design evokes the feeling of a rainbow nation, a feeling of democracy that was fought for by so many. Splash your neck with this fine piece and be assured of second looks.