Show Love with a Ring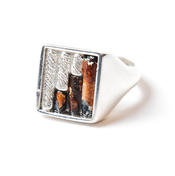 A solid square face contrasts the seamless circle of a ring and accommodates pieces of the Robben Island prison fence embedded in it. The elegant features transforms this silver ring into a symbol of love and devotion towards those who were imprisoned during the Apartheid era.
Timeless and elegant, this ring not only embodies these characteristics; it brings them to life with its truly original design. Show your other half just how much they mean to you with a truly spirited gift.
Tie it up with Cufflinks
Cufflinks form part of the finer details of a well-dressed man. Carefully crafted from pieces of the Robben Island prison fence, these cufflinks echo sophistication and panache.
Perfectly balanced, with a signature design, they are ideally weighted to tie up a suit for any special occasion.
The sterling silver foundation complements the Robben Island fencing in the front, forming an elegant piece of attire for the modern man.