Plain and Simple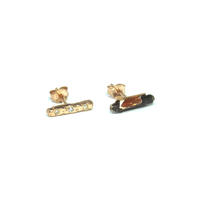 The impact of these stunning diamond-laden studs is straightforward; the designer pairs 9kt yellow gold with a piece of fencing from the infamous Robben Island prison, creating a contrast between South Africa's harsh history and its plentiful future.

Also available in 9kt rose and white gold, these earrings are sure to inspire harmony in your outfit.
Pendant Possibilities
With each unique piece of the Robben Island prison fence comes the potential for peace. Wearers of this truly South African 9kt gold pendant have endless choices when choosing an outfit to match, as this piece is designed for versatility.

Now stocked at the Nobel Peace Center in Norway, this breathtaking piece of jewellery embodies a quest for serenity and global well-being. Contact SouthAfrica.co.za to enquire about this stunning pendant and contribute to world peace.