Born and raised in South Africa, Charmaine Taylor bared witness to the cruelty of apartheid during her childhood.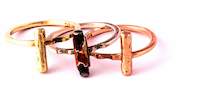 ©The Legacy Collection
Having seen the transformation of South Africa through Nelson Mandela's release and his journey to becoming the first democratically elected president, Charmaine developed the passion to share the message of forgiveness and peace that Nelson Mandela had. In 2012, her passion materialized.
During her tenure as a designer and owner of a marketing firm, Charmaine met the founders of RIACT (Robben Island Art Company & Trust). In 2009, RIACT rescued the original prison fence from Robben Island from being disregarded in a landfill. This was the fence that locked the apartheid political prisoners, including Nelson Mandela, Ahmed Kathrada, Walter Sisulu, Robert Sobukwe and many others, on Robben Island until they were released in 1989 and 1990.
Charmaine and RIACT shared the vision of reimagining the fence as a positive part of South Africa's legacy through art and jewellery. In 2013, Charmaine was granted the right to design artwork and exclusively create jewellery with the Robben Island fence.
For her first Legacy Collection, she cut and created each piece by hand. The bespoke pieces each involve a long design process of cutting and bonding the fence together, then they undergo an expert sealing process and conclude with gold, silver or rose-gold plating.
Charmaine gives back to the South African community by donating a percentage of the profits to both the Nelson Mandela Foundation and Abalimi Bezekhanya, which translates to "We are the Farmers", to help disadvantaged communities and individuals. Abalimi Bezekhaya is an organization that educates communities in Cape Town townships about organic farming practices.