The Cederberg is named for the forests of Clanwilliam cedar trees that were all but exterminated two centuries ago for their fine timber. Today the range is known among mountaineers for its remoteness and grand scale, and for its many fantastical rock formations, sculpted by extreme weather and mechanical erosion.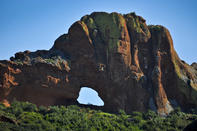 ©Jacques Marais
Cederberg rock arch formation, Western Cape, South Africa.
Inland, across the wheatlands of the Swartland, the land sweeps up in impressive parabolic curves to the Groot Winterhoek and Cederberg mountain ranges. During the summer, these mountains blister in the dry Mediterranean heat, while in winter they are lashed by rain and covered with rock-shattering snow and ice.
These rugged ridges, peaceful valleys, remote plateaux and isolated peaks of the Cederberg, encapsulate a wilderness to rival the Drakensberg's grandeur and the floral wonders of the Hottentots-Holland mountains. The 20-metre-high Maltese Cross stands on a clinkered plain below Sneeukop, the highest peak in the Cederberg; Tafelberg and The Spout rise from the elevated, natural walkway of Die Trap. South of here stands the Stadsaal, which looks as if it came from the pages of the Brothers Grimm's fairy tales.
The Wolfberg Cracks tower over the settlement of Dwarsrivier, while the spectacular Wolfberg Arch beyond looks down onto the parched scrubland of the Tanqua Karoo. On the highest and most exposed peaks grows the lovely, white puff-ball snow protea. Tucked into the valley of the Tra-tra River, almost out of sight.