Snaking up to Wolfberg Arch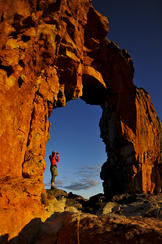 ©Jacques Marais
Wolfberg Arch in Cederberg.
The Destination: Dwarsrivier Farm and the Sand River Camp Site, hidden within the heart of the Cederberg Conservancy and surrounded by dramatic landmarks such as Tafelberg, Sneeuberg, the Maltese Cross and the Wolfberg Arch, boast exceptional hiking.
The Experience: Several trails exist, but the one snaking up to Wolfberg Arch is by far the most rewarding, but you had better be ready for a vertiginous slog.
Start off via the Valley of the Red Giants, then tramp along a steep footpath into the ominous wasteland of the Wolfsberg Cracks. Make your way through the narrow ravines until you top out on the plateau, with an easy hike en route to the actual Arch.
The Detail: If you feel like taking on a different return route to the Wolfberg Cracks, tramp down Gabriel's Pass and past Driehoek Farm. This way you'll experience the best in rock formations and cedar trees that the Cederberg has to offer.
The hiking is strenuous with steep climbs, and vertigo, dehydration, snakes, thunderstorms and claustrophobia could be issues to contend with. Getting There: GPS Coordinates – South: 32° 26' 35" East: 19° 11' 24"
By
Justin Fox