Exceptional Hiking and Climbing
The Cederberg offers exceptional hiking and climbing. You'll need a permit to walk and use the huts in the wilderness area, which has been divided into three zones, stretching from the Pakhuis Pass to the Maltese Cross.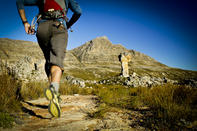 ©Jacques Marais
Hiking in the Cederberg takes you to popular attractions, such as the Maltese Cross, Western Cape.
Some of the routes cross private land, for instance Wolfberg Arch and Maltese Cross, and permission must be obtained from the landowners, such as at Dwarsrivier and Kromrivier.
Rock Art Trail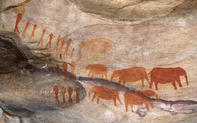 ©Roger de la Harpe
San rock art in the Cederberg Wilderness Area. Western Cape, South Africa.
There are more than 1000 known rock art sites in the Cederberg, making this one of the richest open-air art galleries in the world. The two-hour, self-guided Sevilla Rock Art Trail is a must.
4x4 and MTB Routes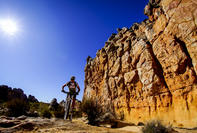 ©Jacques Marais
The Cederberg area in the Western Cape, offers excellent mountain biking routes for any enthusiast.
There are a number of excellent 4x4 and mountain bike routes within the Cedeberg area. From Wupperthal, Biedouw Valley and Kagga Kamma alone, there are at least a dozen. Many of the farms, such as Kromrivier and Sanddrif, also have trails.
Spring Flower Shows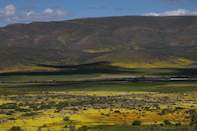 ©Eric Miller
Biedouw Valley wild flowers.
The flower season generally comes early to the Cederberg, sometimes as early as starting in July. The Biedouw Valley has the most spectacular blooms. The spring flower show in Clanwilliam, along with the town's botanical garden, are musts.
By Justin Fox