A Recipe for Riding Fun
Nuwerust Rest Camp holds the recipe for riding fun: dramatic landscape + hectic topography + single-track + seemingly endless riding options = Mountain bike orgasm. Or something like that, anyway.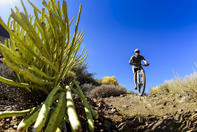 ©Jacques Marais
This 66 000 ha conservancy remains largely unexplored here at the southern tip of the Cederberg ranges, and at the heart of it all, you will find the exquisitely wild Nuwerust Rest Camp. This is very much a working farm with an eco-adventure focus, dominated all round by craggy, blood-orange mountains and with juddering dirt roads all around.
The great news is that Nuwerust plays host to a vast section of the annual Ride the Rock MTB Challenge, and the upshot of this is that two single-track sections for the race are right on your doorstep. Even better, the neighbouring farms have also bought into MTB as a major tourism driver, thus allowing riders to access an extended circular route without trespassing.
Your top-of-the-morning ride starts from the Nuwerust farmhouse and allows you to immediately bang onto a 3 km stretch of single-track winding past the campsite to cross the river.
Go Like a Speed Freak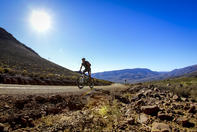 ©Jacques Marais
Follow the trail left below the imposing Rooiberg amphitheatre, traversing above the river course. Small, square brown signs point the way along the trail, some may be obscured by high brush, but there is also packed stone edging to help keep you on track.
A wooden stile pops you over a fence to the Cederberg Oasis Backpackers and Restaurant, 3 km, the only place to boast a meal or cold beer for miles around. Turn left at The Oasis onto the main Ceres gravel road and crank like a speed freak along the downhill bombing back towards the main Nuwerust entrance, 5 km.
Then toughen up and get ready for a dose of 'suck it up, cupcake' as you climb for the next 5.5 km along the grinding ascent up Grootrivierhoogte. When you eventually summit at a cattle grid, 10.6 km, a bad-ass wilderness view of epic proportions across the Koue Bokkeveld section of the Cape Winelands will make it all worthwhile.
Zigzag and S Bends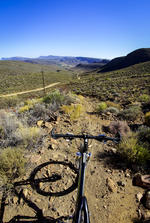 ©Jacques Marais
The best is yet to come, bru. Explore past a disused quarry to your left, just before the grid and around 30 m off the road, and you'll discover a marked section of single-track zigzagging back towards Nuwerust. The trail basically s-bends along the side of the gravel road all the way back into the valley.
You need regulation-size cojones to handle this teeth-gritting trail, as there are a good few steep drops, super-slide bends and loose shale to conquer. Keep it tidy, though, especially where you sneak back onto the road for 50 m, and also where you cross under a gate fence that will garrotte your head clear off your body if you don't focus.
In the end, the descent is 99% rideable until you bottom out to loop around a little dam and back to the road. Cross at the Nuwerust sign, 16 km, to high-tail the final 1.4 km back along fast-and-flat gravel.
Fast Facts - Nuwerust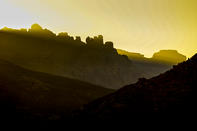 ©Jacques Marais
Grading: Intermediate Duration: 90min-2hrs Configuration: Circular, 17.4km Start point: Nuwerust Rest Camp Coordinates: S32°33'42.1" / E19°22'41.1" Terrain: Single-track; gravel district road Map: N/A Entry requirements: Riding for guests only; no day visitors allowed Facilities: Self-catering cottages, camping and lapa Cell reception: Very bad Beware of: Can get technical in places
How to Get There: From Cape Town make your way to Ceres and then follow the R303 to Op-Die-Berg for 30 km. 200 m past Op-Die-Berg, turn right at the Cederberg/Ceres Karoo sign and follow the tar road for another 18 km until it turns to gravel; you will reach the Nuwerust turn-off to your right 45 km later.
Best Time of Year: Year round, but summer heat is extreme, so you'll have to time your riding. Off The Bike: The Nuwerust camping site is set along the banks of Breëkrans River, with lekker swimming holes and fishing spots, and with the Rooiberg cliffs towering above your camp. This is a paradise for trail runners, hikers and rock climbers.
By
Jacques Marais