Rock Garden of the Gods
'We start to feel the earth…as something like the Cederberg, cobbled together out of huge plates of rock, salted and peppered by scree, flogged by sunlight, splintered by cold.' - Stephen Watson A couple of hours journey inland from the West Coast and within easy driving distance of Cape Town, the 'Rock Garden of the Gods' await.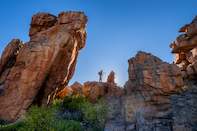 ©Chris Daly
Cederberg Valley of the Red Gods.
This is the Cederberg, a place of bizarre sandstone sculptures, weathered peaks and amber cliffs. It certainly stands as one of South Africa's most imposing wilderness areas. Get ready for sandstone heaven once you cross the meandering Olifants River.
Undulating fynbos slopes, contorted rock formations and black-water pools beckon in a landscape largely unchanged since the days of San hunters who once roamed these ranges. Few other destinations in South Africa boast as many hiking trails as the Cederberg.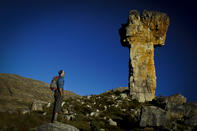 ©Jacques Marais
Maltese Cross rock formation in the Cederberg.
Heaven for Rock Climbers
Anything goes, from leisurely ambles to mean, multi-dayers traversing some of the Cape's highest peaks. With rock formations such as Wolfsberg Arch and the Maltese Cross vying for attention, this is get-high heaven for rock climbers too, with hundreds of traditional and sport climbing routes spider-webbing along dozens of crags and boulder fields.
On the bike, you can look forward to superb single-track loops, the Lot's Wife and Dwarsrivier Farm Trail should not be missed, plus more than 180 km of gritty road circumscribing the range itself. Or spike up your endorphins with a cliff jump at Maalgate, a great picnic site near Sanddrif.
It's not all wall-to-wall action though, so make time to visit the Cederberg Wine Cellar, the Wuppertal veldt skoen factory or the Cederberg Observatory. The Cederberg is a year-round destination, but if you're hiking or climbing, it can get terribly hot in mid-summer. During winter, there's often snow on high ground, so come prepared. Early spring is flower time and very popular.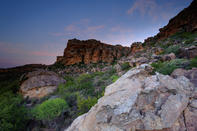 ©Shem Compion
Rock formations in the Cederberg.
By
Jacques Marais