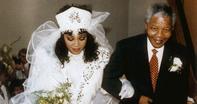 © Dr Peter Magubane
Mandela proudly walks his daughter Zindzi down the aisle on her wedding day in October 1992.
Zindziswa Mandela is a South African politician that is serving as the country's ambassador to Denmark. She is the daughter of Nelson Mandela and his second wife, Winnie Mandela. In 1992, Zindzi married her first husband, Zwelibanzi Hlongwane. Madiba proudly walked her down the aisle at the ceremony.
Zindzi married her second husband, Molapo Motlhajwa, in 2013. He was a member of the South African National Defence Force. She has four children, Zoleka, Zondwa, Bambatha and Zwelabo, all with the surname Mandela.
"We must use time wisely and forever realise that the time is always ripe to do right." ~ Nelson Mandela