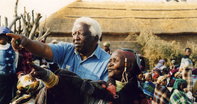 © David Meyer-Gollan
Photos Speak Loudly
From the township streets to the hallways of power, Peter Magubane has spent more than half a century photographing the struggle against apartheid as well as other social issues.
During this period he came to know Nelson Mandela well - first as a young political leader who was making waves throughout the country, and then as an icon of the struggle. Over the years a kinship was forged between two 'politicians' - one who spoke with words and actions, the other who spoke with his camera.
After Mandela's release in February 1990, Magubane was selected as his official photographer to chronicle South Africa's four-year transition to democracy. From this platform, he made the most of the countless photographic opportunities that occurred along the road to a new political dispensation. In particular, Magubane had unparalleled access to Mandela and his family.
A Distinguished Career
Dr Peter Magubane is one of South Africa's most internationally acclaimed photographers. He embarked on his distinguished career in 1954 with Drum magazine, which took him to the heart of the anti-apartheid defiance campaigns. After the Drum years, Peter exhibited in Europe and then studied in the United States.
Back home in 1966, he joined the Rand Daily Mail newspaper. In the period from June 1969 to 1971 Peter spent a total of 586 days in solitary confinement, and was later banned as a photographer for five years.
From the 1980s, Peter also worked for Time magazine. In 1990 he was selected as Nelson Mandela's official photographer to chronicle South Africa's transition to a new political dispensation.
Peter Magubane has received numerous accolades for his dedication and outstanding contribution to the world of photography. Among these are: the Mother Jones-Leica Lifetime Achievement Award; Martin Luther King Luthuli Award; a Fellowship from the Tom Hopkinson School of Journalism; and four Honorary Doctorates from various South African universities.
In addition, he was the first black South African to receive an award for his photography - in the 1958 Best Press pictures of the year contest. Today Peter Magubane mainly focuses his lense on the diverse traditions and cultural practices of South Africans.