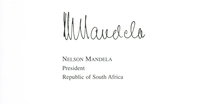 Outstanding Contribution to Photojournalism
South Africa is proud of its diverse cultural wealth and traditions. Although some cultural traditions have been forsaken, others still form an integral part of our daily life, often blending with each other and with modern elements to present a fascinating juxtaposition of old and new.
Peter Magubane, who has made an outstanding contribution to photojournalism over the past four decades, has utilised his talents as a photographer to capture this national treasure of our society and record it for posterity. I am honoured to have this opportunity to make a humble contribution to creative endeavours.
NELSON MANDELA
President
Republic of South Africa