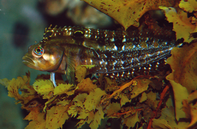 © Johan Boshoff
Common Family Name
Klipfish
Scientific name
Clinidae
Size
Up to 60 cm, average 15 cm.
Identification
Elongated body, tapering towards tail. Dorsal fin full body length. Pectoral fins long, used to rest on. Anal fin stretches from pectoral fins to the tail. Rounded tail. Reddish brown to olive green with camouflage patterns. Lighter underneath.
General Info
Clinidae family consists of 20 genera and 73 species. They have whisker-like structures (cirri) on different parts of their heads. Scales not visible. Found in areas rich in seaweed and kelp. Very shy. Eggs deposited on kelp and the male guards them until hatched.
Feeding
Feeds mainly on molluscs and small crustaceans.
Distribution
Occurs in all temperate and tropical oceans of the world.