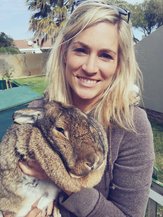 ©Karoline Steenekamp
A huge Flemish giant doe. One of the first breeds to be imported to South Africa, it is considered a 'fancy' and not suitable for meat production.
Commercial rabbit production started in South Africa shortly after World War II. Rabbits were one of the few types of meat available during the war in Europe and returning servicemen saw a huge potential. The first cages were built out of sheet metal and were three tiers high.
Rabbits farmed were mainly New Zealand Whites and New Zealand Reds that were imported in the late 1940's from England. Californians came in from the USA in the 60's with a different New Zealand White. These were better commercial producers than the Whites from the UK and currently only the American New Zealand Whites type is used in SA.
From the 'Transvaal', rabbit farming spread to Natal and several large farms were established with most of the meat being produced going to ship chandlers. At the same time as the first commercial meat rabbits were imported Flemish Giants (a 'fancy' and the wrong shape for meat production ) and Silver Foxes (a 'dual purpose') came in as well, also from the UK, but commercial farmers were only interested in meat in the early days.
Marion Keller (author of a book 'Rabbit Breeding in South Africa' published in the mid-'70's) was one of the first commercial producers and started her farm in Johannesburg with meat rabbits and Angoras.
In the mid 60's Ms Keller became interested in developing a secondary product - rabbit furs - and made contact with Thorer's Cape Town, specialist karakul pelt tanners. Thorer's then took on tanning all pelts available. A furrier by the name of Breger took on the creation of beautiful coats, jackets, hats and things from quality Rex, Fox and Beveren pelts. These rabbit fur breeds had all slowly been imported by different breeders over the years. Any pelt not good enough for the fur trade was sold at the agricultural shows like the old Goodwood show in Cape Town, the Rand show and Royal Show in Pietermaritzburg.
The South African Rabbit Council was formed around 1950 in Johannesburg. The aim was to support the growing rabbit industry with knowledge, shows and marketing support. The Rand Show of 1952 had 1000 entries for rabbits judged by Marion Keller, Bill Elliot, Ronnie Watters and the great Mrs G M Stewart. To date, there has not been a show with that huge number of entries.
Unfortunately, get-rich schemes crept into the developing industry, resulting in some heavy losses by uninformed newcomers to the industry. This was peaked by a scam in the 1980's where unsuspecting farmers were encouraged to breed rabbits under contract. Thousands of rabbits were bred at that time but never reached a slaughter facility, as no market promotions had been done. Hundreds of people lost thousands of Rands and the industry collapsed completely. It was only the fanciers and members of clubs breeding speciality breeds, who survived.
The rabbit world today finds itself in a very different situation. Our breeders now have to be stockmen to survive as the days of importing new stock on a whim are over. South Africa by chance and pure good luck is one of the few countries in the world free of two major killer diseases - myxomatosis and viral hemorrhagic disease. As a result, our borders are closed to imports so breeders have to work with the stock they have, improve on it and farm well.
Unlike during the nightmare situation of the 1980's South Africa now has a consortium of farmers, under the banner of Coniglio Rabbit Meat Farms. The company has viable export markets, slaughter facilities and offer farmers a very sound business plan.
However, for farmers wishing to develop their own markets, there is also scope to grow and create a good living from meat production. Please remember to do every bit of required homework before starting out - making sure that slaughter facilities and markets are available before breeding.