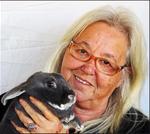 Karoline Steenekamp has been involved with rabbit breeding since the 1950's when she shadowed her mother, Marion Keller, a judge, breeder and the author of Rabbit Breeding South Africa. Karoline qualified as an All Breeds judge in 1974 and since then has judged at all major rabbit show venues in South Africa.
In 2017 she had the opportunity to be the only South African to judge in the United Kingdom. Although Karoline has bred most of South Africa's breeds over the years, but Angora rabbits are her main passion.
Products from her farm included Angora wool garments, hand spun and hand knitted. Karoline retired from breeding and farming in the 1990's but still is involved with consulting at all levels of the rabbit industry and judges regularly.
She is the chairperson of the Cape Rabbit Club and very active in the South African Rabbit Judges Council under whose banner she published a book called Rabbits: The South African All Breeds Standards of Excellence.
Karoline is working on a Rabbits Breeders Manual and hopes to release it at the Stellenbosch Agri Expo in October in 2018. This book will cover all aspects of breeding rabbits, from pets to commercial meat production. The book will cover "how to" farm with rabbits rather than which rabbit breeds to farm.