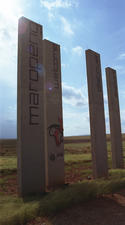 ©David Fleminger
Arriving at Maropeng.
If you've not visited the Cradle of Humankind World Heritage Site before, near Krugersdorp/Mogale, you're in for a real treat. This remarkable (and expansive) destination boasts a history reaching back millions of years, and the many ancient fossils found here attest to this.
Philip Tobias's world-famous Sterkfontein Caves are partnered with the award-winning Visitor Interpretation Centre at Maropeng (a Setswana word meaning 'returning to the place of our origins'), and together they work in perfect sync to open a window on the world of our hominid forebears.
Dozens of other attractions grace 'The Cradle' area, and once you've paid your respects to Mrs Ples and 'Little Foot' - the 2.1-million year Australopithecus skull and 3-million year skeleton – ask for a map and go hike, bike, quad and explore to your heart's content.