There is a wide variety of accommodation in Kruger National Park options ranging from rest camps to luxury Kruger Park safari lodges.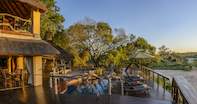 ©Roger de la Harpe
Jock Safari Lodge in Kruger National Park.
An important part of the Kruger National Park's revenue stream is the income generated from private concession areas. These are large pieces of land within the Kruger National Park that are contracted out to private companies for a predetermined number of years.

The concession holders then have the right to build a lodge, which tend to be of the expensive and luxurious kind. Concessionaires also have exclusive use of the game-viewing roads in the concession area, as these are closed off to the general public.
Within these exclusive enclaves, five-star Kruger National Park lodges flourish and guests are able to enjoy the finest in food, wildlife and service in comfortable seclusion. All concession Kruger National Park lodges offer game drives, walks and other activities, as guided by expert rangers.

Accommodation in Kruger National Park is also available in the Rest Camps which range from campsites, to rondavels, bungalows and cottages. This affordable accommodation in Kruger National Park is great for visitors wanting to self-drive and explore the park on their own terms.