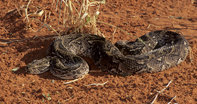 © Nigel J Dennis
Name
puff adder [Bitis arietans]
Subspecies
Common puff adder [B. a arietans]
Somali puff adder [B. a. somalica]
Class
Reptilia
Order
Squamata
Family
Viperidae
Length F
1 100 mm
Length M
1 090 mm
Description
The puff adder of South Africa is a large snake with yellow-brown to light brown colour adorned with black pale edged chevrons dorsally and bars on the tail. It has a large triangular head with large vertically pointed nostrils.
Distribution
They are found throughout South Africa and extend across the continent of Africa and as far as Arabia.
Breeding
The puff adder lays up to 20-40 eggs in the wild. The eggs hatch during the later summer months in South Africa.
Venom
Cytotoxic.
Diet
The puff adder feeds mainly on rodents, birds and will also eat other snakes in the bushveld of South Africa.
Field Notes
The puff adder gets its name from blowing air out of its large nostrils that serve as a warning when threatened. These snakes do not back away when approached and are responsible for the highest number of bites and fatalities by any other snake in South Africa.