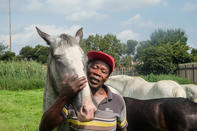 © Andile Bhala
Soft skills also include your personal drive and passion for farming.
Hard skills for farming are job specific. You need to become qualified to do certain tasks. Hard skills are practised on the farm and when doing farm work for example, driving a vehicle, operating a computer, vaccinating animals and in general, getting farm work done. Hard skills are what you learn on the job and the skills you talk about in a job interview for a farming position.
Soft skills, on the other hand, are personal attributes and communication skills.
According to one of the most successful businessmen in the UK, James Caan 'workers will be held back by their lack of soft skills'.
He says the most important skills are the ability to communicate, teamwork, decision making, time management and a desire to take control of your future. Soft skills also include your personal drive and motivation, your ability to manage your time and take responsibility. In terms of communication, when writing emails and SMS's, make sure to spell correctly, use the right punctuation and end the message with your name.
These soft skills can make the difference between whether you will get a job or not. Nearly every applicant for a job might have suitable and the required hard skills, but how many will have the soft skills that will make him/her better than the rest?
Your soft skills are what will make you separate from the rest and exceptional. It is not just about getting up and doing the job, but also to motivate the people working with you.
By Judy Stuart