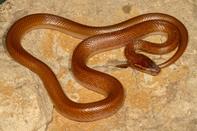 © Tyrone Ping
Vito
Brown House Snake [Boaedon capensis]
Vital Statistics
Ntlawa: Reptilia
Nolongoloka: Squamata
Rixaka: Colubridae
Subspecies: The African House Snakes have been classified into 7 separate species across the continent.
Ku Leha (F): 783 mm
Ku Leha (M): 656 mm
Xifanekiso
Yikulukumba nyaana nyoka leyi yitoloveke iyinyoka yo randza kungena emutini. Rivala rayona ri red-brown. Leto khegula revala ra red-brown ratika. Ematlelo ya ntloko kuna rivala raxitsopana.
Mphakelo
Brown house snake yikumakala a southern Afrika, yihlukaniswilu kuri yotiviwa hikuri I separate species.
Andzani
Yiveka matandza ya 16 hiXimumu, yiteka masiku ya 60-90 kuri tilunga. Leta swavana swi le ha ka 190-260 mm.