The origin of the Zulu, probably the largest single population group in South Africa, lies in a small Nguni-speaking chiefdom that emerged near the White Umfolozi River in what is today known as KwaZulu-Natal during the 16th century.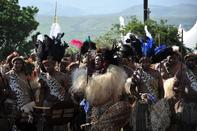 ©Dr Peter Magubane
Zulu men at King Shaka Day celebrations with the KwaZulu-Natal mountains in the background.
Shaka, who became the chief of the tiny Zulu group in 1818, laid the foundations of the Zulu nation and built the mightiest empire in southern Africa.