The Ndebele are well known for their outstanding craftsmanship, their decorative homes, and their distinctive and highly colourful mode of dress and ornamentation.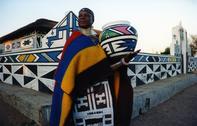 ©Dr Peter Magubane
Esther Mahlangu is an Ndebele woman and an internationally renowned painter and decorator.
They were once part of the Nguni-speaking peoples who settled along southern Africa's eastern coastal plain, but broke away some three centuries ago and migrated to the central inland plateau. The Ndzundza Ndebele today mainly live in the former homeland of KwaNdebele in Mpumalanga, and around Nebo, Northern Province.