Situated in the extreme northwest corner of South Africa, and hunkered down within the muddy embrace of the Orange River, you will find the expansive 160,000 ha Richtersveld National Park.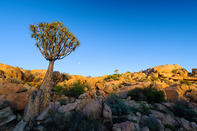 ©Shem Compion
Proclaimed in 1991 following a land claim agreement with the Nama community, this mountain desert reserve offers the outdoor crowd a complete escape from everything urban.
The original Richtersveld Mountain Desert National Park was linked to /Ai/Ais – its cross-border counterpart in Namibia – in 2003 to establish southern Africa's first transfrontier park. It was this international treaty that led to the formation of the much larger and current /Ai/Ais-Richtersveld Transfrontier Park.