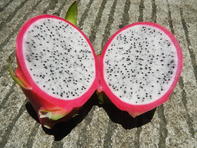 © Florentino Floro
The world's biggest producer of Dragon fruit is Vietnam who produces mainly (95%) the pink-fleshed variety. South Africa produces predominantly this white-fleshed Dragon fruit.
Dragon fruit, also called pitaya, is the fruit of a climbing cactus, which blooms at night. Grown in tropical and subtropical regions of the world, plantings of this fruit is increasing in South Africa, who is fast establishing a growing export industry in this nutritious fruit.
Global Dragon Fruit Production
The bulk of dragon fruit is produced in Northern Hemisphere countries. This means that dragon fruit from South Africa is available when availability in European and US markets are low.
Dragon fruit is commercially produced in Vietnam, Malaysia, Thailand, Taiwan, Sri Lanka, China and Israel, but also grown in Central America (Mexico, Colombia, Ecuador, Guatemala). Vietnam produces mainly (95%) pink-fleshed dragon fruit while Ecuador and Colombia focus on the sweet yellow-skinned white-fleshed varieties.
Vietnam, followed by Thailand and Israel, is the biggest supplier of dragon fruit, producing more than 600 000 tonnes per year.
The bulk of all dragon fruit production is eaten in Asia, by specifically the Chinese who are the biggest dragon fruit consumers, due to their belief in the good fortune brought by the dragon fruit's name, shape and colours. The majority of the dragon fruit is used for value-added products.
South African Dragon Fruit Production Areas
South Africa's warm climate is ideal for dragon fruit, which prefers temperatures of 21°C - 29°C, but sufficient irrigation or rainfall of between 650 mm and 1 200 mm is required. Dragon fruit is sensitive to intense sunlight and frost. Dragon fruit grows well in climates where avocados, bananas and macadamia nuts are grown and will fit in well with the productions systems of this produce. The same packhouses and logistics can be used and harvesting does not overlap.
Dragon fruit is grown in the Natal Midlands and coastal regions of KwaZulu Natal, the Lowveld area from Nelspruit to Tzaneen, Eastern Cape and in the Western Cape. The biggest new dragon fruit plantings in South Africa are around Dendron and Louis Trichardt in the Limpopo Province.
According to Max van Heerden of Dragon Fruit South Africa (DFSA), dragon fruit production in South Africa is still small with about 100 tonnes produced per year (2019). Most of this is exported via airfreight, with only a few crates available for local consumption. However, the commercial production of dragon fruit in South Africa is expected to grow enormously between 2019 and 2021 as extensive new plantings come into production.
South Africa exports dragon fruit, primarily to Europe, but will also supply the Far East and the USA once production increases.
Dragon Fruit Seasons
Dragon fruit is harvested in South Africa from November to March. If dragon fruit plants are young, they will only produce from January to March, but the older the plant, the longer the fruiting season.
Dragon fruit from the Western Cape and Northern Mpumalanga Provinces can produce into May and June, but the dragon fruit season of inland South Africa concludes in April.
By Marinda Louw
For bulk or Dragon Fruit export enquiries please use the enquiry link below.