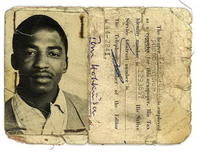 © David Meyer-Gollan
The Brutal Fist of Censorship
An otherwise normal day in June 1969 is life-changing for the newsman Dr Peter Magubane. The brutal fist of censorship strikes down hard. It's not the first time he's been harassed by the police, but this time he is dragged off to Pretoria Central Prison. There he is interrogated by the police.
They demand he tell them if he 'has been sent by the communists to put South Africa in a bad light'. Made to stand for five days and five nights on unstable bricks, Peter collapses on the fifth day. He is kept in solitary confinement until October 1969, when he is charged under the Suppression of Communism Act.
The onslaught of charges continues. In February 1970, after being acquitted of the charges, he is re-arrested immediately, in court. They continue to detain him in solitary confinement. In August 1970, he is charged again, under the Terrorism Act, and once more in March 1971, under Section Six of the Terrorism Act — allowing for his indefinite detention. Finally he is released in 1971. Peter spent a total of 586 days in solitary confinement.
Don't Forget, But Forgive
He was forced to resign from the Rand Daily Mail and while still under a five-year banning order in 1972, he breaks it and serves another six months in prison. 'I have paid a price for being a photographer in this country,' he shares. As soon as the banning order expires in October 1975, he is back on his news beat with the Rand Daily Mail.
'No one was going to stop me from telling the truth!' With poise he explains how he found ways and means of surviving in solitary confinement. His strength came 'from God', he opens up, 'and I knew that I had done absolutely nothing wrong!
All I had done was to photograph the children working on farms.' He recollects, 'I could hear the other prisoners scream right through the night, being tortured. If I had thought I was the only one, I would have gone cuckoo.
It helped me a great deal to know I was not the only one suffering. There were others suffering worse than me on Robben Island, serving life sentences.' Today he is a calm man who is quick to laugh, and it's clear he hasn't allowed resentment to fill his heart. 'Don't forget, but forgive. You have to go on with your life.'