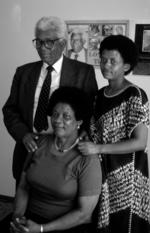 ©Eric Miller
Albertina Sisulu is one of the most respected figures in South Africa's history. She has received numerous honours for her service and commitment to the anti-apartheid struggle:
In 1986 she received the honourary citizenship of Reggio nell'Emilia in Italy. In 1988 a Lenasia newspaper, The Indicator, awarded the Sisulu family the Newsmaker of the Year Award. She was elected president of the World Peace Council based in Switzerland from 1993 to 1996.
This was in honour of her anti-apartheid activism and social work. In 1994 she became part of the first democratic Parliament and served for four years, when she retired. She also received an award from the then-president Nelson Mandela.
In 1999 she was awarded an honourary doctorate from the University of the Witwatersrand for her dedication to the cause of democracy and justice in South Africa.
In 2003 she was honoured for her years of dedication to the social upliftment of South Africans when a Soweto centre for children with special needs was named after her. In 2004 she was voted 57th in the TV channel SABC 3's Great South Africans.