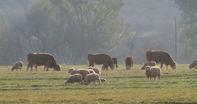 © David Fleminger
The Vredefort Region
After the 2nd Anglo-Boer War ended, the economy of the Vredefort region was devastated. Many farmers returned to blackened fields and hundreds of white farm workers (Bywoners) were destitute. In an effort to buck up the fortunes of the area, the government initiated a number of work schemes and infrastructure was upgraded with local labourers.
A bridge over the Vaal River at Parys was built in 1915. Railways were extended. Roads were improved. Factories were built. Irrigation schemes were constructed (such as the Vaal Dam and Barrage).
Slowly, the situation got better and commercial agriculture began to flourish. Today, Parys is at the centre of a well-developed farming community, producing maize, tobacco, sunflowers, nuts and cattle. Tourism is also an important money spinner for the region.
The Spectre of Apartheid
The 20th century also brought with it the spectre of apartheid, and black farm workers did not have an easy time. One particularly poignant case involves the people of Machaviestad, near Potchefstroom.
The residents of Machaviestad (part of the Barolong tribe) had been living there since the 1840s, when Andries Potgieter 'gave' them the land, as an expression of his gratitude for their support in the fight against the Matabele.
By the 1920s, however, the white farmers were growing unhappy with the increasing population of black people on their doorstep and several attempts were made to have them relocated. The Barolong, however, stood firm and refused to move.
Forcibly Removed
Finally, in 1971, the government and the Potch Town Council got tough and threatened to have them forcibly removed. The Barolong gave into the demand and were transported to Rooigrond, near Mafikeng, in the homeland of Bophuthatswana. For the next 30 years, they fought to reclaim their land in Machaviestad, but it was to no avail.
Happily, after the democratic elections of 1994, a new dispensation swept the land and the Machaviestad issue was raised again. This time, it was agreed that the council would buy the land back from its current (white) owners and return it to the Barolong people. On the 28 of April 1995, exactly one year after the elections, the first of 110 families returned to Machaviestad.By
David Fleminger