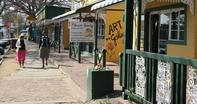 © David Fleminger
Quiet Village
Although the town of Vredefort gave its name to the Dome, there is little else to attract visitors to this quiet village. It was founded around the same time as Parys, apparently because of a disagreement between property developers and the local land owners, and there was initially some rivalry between the two towns. Vredefort was laid out in 1876 and became a town in 1881.
The name, meaning Fort of Peace, has an uncertain origin. Some say the name signifies the peace felt by the local farming community now that they had a church in the vicinity. Others believe it relates to a disagreement between the Transvaal and Free State boers, which was resolved amicably over brandy and koeksusters at a nearby farm.
The Riemland
At first, the people of Vredefort were part of the hunting economy that extended throughout the north western Free State. This region was called the Riemland, because of all the leather thongs (rieme) that were produced as a by-product of hunting. Later, agriculture took over as the main commercial activity and Vredefort boasts a prominent set of grain silos on the edge of town.
Today, Vredefort's main claim to fame is as 'ground-zero'; the place where the Vredefort bolide thunked into the Earth and the epicentre of a global catastrophe. Unfortunately, there are no longer any visible signs of the monstrous impact.
There is one small, rocky rise on the outskirts of town, which some disappointed visitors take to be the actual Vredefort Dome, but they are mistaken. Climb to the top of the unimpressive outcrop and gaze over at the mountains, however, and you'll start to get some idea of the scale of the impact event.
A Beautiful Small Town
This unimpressive outcrop is also the planned location for a new Visitors Centre. The first phase of this development was due to open during 2009 with an info office, a large exhibition area with installations on the Dome, a trading post with local crafts and a snack bar.
The second phase was to include an outdoor arena, cultural activities, landscaped gardens and a picnic area. However, progress on this project seems to have stalled indefinitely.
Vredefort has always lived in the shadow of its larger neighbour, Parys, located just 15 km away. Vredefort has no river, no antique shops and no ritzy cafés. Instead there are a couple of dodgy take-aways, several hardware stores and a hairdresser.
However, Vredefort is a beautiful small town with a lovely sandstone church and authentic country atmosphere. There is a lot of potential here, and I feel confident that there will be considerable development in the future.By
David Fleminger