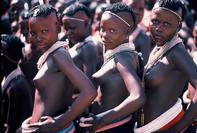 © Dr Peter Magubane
Female Ntwana initiates.
Although classified as Northern Sotho, the Ntwana are believed to be of Tswana (Western Sotho) origin. They can be traced to the Bakwena-Bamangwato and were probably related to the Rolong.
Until they purchased Kwarrielaagte in 1903, the Ntwana were constantly migrating from area to area, mixing with other groups. It was only when the Ndebele chief Mzilikazi attacked groups in the then Transvaal in the 19th century that the Ntwana, searching for protection, became influenced by Northern Sotho groups, particularly the Pedi.