A Multitude of Voices
There are many ways to experience the Kruger National Park - the bush speaks in a multitude of voices and therefore appeals to a diverse group of people.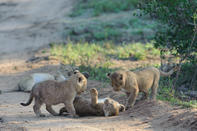 ©Shem Compion
Lion cubs playing, Kruger National Park.
So, the vast Kruger National Park attracts birders, game spotters, nature lovers, hikers, campers, safari addicts and ordinary holidaymakers in equal measure.
But, even within these interest groups, the bush experience is often a singular one, depending on the personal predilections of each visitor. That's why individuals are encouraged to discover their own game reserve and to form a unique personal bond with the wilderness.
By
David Fleminger