Kruger Park's Prides and Predators
The abundance of grass and browsing trees in the central-eastern region sustains the park's biggest herds of impala, buffalo, giraffe, kudu, wildebeest, zebra, waterbuck and sable … and consequently nearly half the park's lion population.
©Shem Compion
Lion (Panthera leo) in the Kruger National Park.
It is estimated that about 60 lion prides occupy home ranges there, with an average pride size of 12 cats. This high density has major consequences for competing predators. Although hyenas are able to hold their own, only about 60 cheetahs have been identified in the region, despite the fact that their favourite prey is abundant and the open savanna is ideal for hunting.
The same applies to wild dogs. The area around Satara provides arguably your best chance of seeing lions. Stevenson-Hamilton said of lions: "There are bold and timid, excitable and placid, good-natured and irritable individuals among them. Being what they are.. . it is wise not to take anything for granted in respect of their possible conduct."
N'wanetsi River Road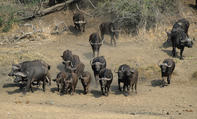 ©Nigel Dennis
Cape Buffalo (Syncerus caffer), Kruger National Park, South Africa.
You'll find an abundance of 'ordinary' animals on the N'wanetsi River Road — one of the best places in the park to view game. Instead of chasing after lion, leopard and cheetah — though there's a good chance of seeing these here — spend time observing the interactions between impalas, buffaloes and wildebeest.
Let Kruger fill children with its natural wonder, read fireside tales and watch the stars through binoculars. Imitate the calls of birds and learn the difference between a wildebeest and a buffalo. It's magic that will last a lifetime.
By Justin Fox